Nursery World magazine. Star Letter
Elaine Pitteway wrote to Nursery World magazine recently in response to an article by Penny Tassoni who was talking about the value of nurseries taking children to local shops.
Here is the letter they published - well done Elaine
Hi, I felt I had to comment after reading this to remind everyone what a great job childminders do!
I wonder how many childminders smiled to themselves when they read Penny Tassoni's article about the benefits of visiting local shops. Childminders have long been taking children out in their local community and when the EYFS was first published we were reassuring them just how many learning outcomes could be achieved through this. Childminders have the unique opportunity to take children out and about and help them learn all about the world around them and how things work – who remembers the childminder visiting the travel agent in the QCA 'Seeing steps in children's' learning' DVD more than 10 years ago? From using the pelican crossing to getting a library card the learning opportunities are endless. Imagine what can be gained from deciding together what to have for lunch, walking to the shops, doing the shopping (maybe also picking vegetables from the allotment), paying for it then coming home to help cook a healthy meal. Many childminders are already well known in their community and in my experience shops and businesses are happy to help. When we were delivering a Prevent Duty training course recently a childminder gave an example of how she visited the local mosque with her minded children. They were asking questions and she encouraged them to ask the Imam. Not only was he happy to answer their questions, he let them touch things, including the bell because they asked so nicely, and gave them the fruit that was on offer. We discussed how this really positive experience would empower those children to challenge any negative views others may express – this is exactly what the Prevent Duty is all about!
Support from Northamptonshire Childminding Association is coming to an end
Questions and Answers
Q. What will happen to the NCA staff?
A. Some may transfer to NCC and some will remain as Childminding UK
Q. How will it affect the support I get?
A. All Northamptonshire childminders will no longer be NCA basic members but will still be entitled to support. NCC will be letting you know what support you will receive and how it will be delivered
Q. How will it affect the NCA website www.childmindingnorthants.org.uk ?
A. That website will no longer be updated from 1st October. There will be a banner on every page to this effect with a link redirecting visitors to the new Childminding UK website
Q. What will happen to the find a childminder facility?
A. That section will be removed and visitors will be referred to the NCC Find a childcare provider page
Q. Will you keep in touch with us?
A. Yes, you will be able to opt for us to keep your details.
Q. What about the NCA Face Book page?
A. We have a Face book page on our completely new website www.childmindinguk.com . Visitors to the NCA page will be forwarded there
Q. What will happen to my membership?
A. If you have bought NCA Premium membership you will automatically become a Childminding UK member. We will send all the details in a separate email
Q. How will I access my resources?
A. You will be sent an email with your new log in details to the Childminding UK website
Q. Will my membership package be the same?
A. The only thing we can't guarantee at the moment are an annual visit and fully funded members' evenings. But we are adding new online training, resources and member benefits
Q. Will you be offering local training?
A. Yes. We won't be able to advertise this in the NCC bulletin but if you opt for us to keep your contact details we will let you know of any training/events we are organising
Q. Can I still get support through the enquiry line?
A. Support will be for Childminding UK members only, you will be asked for your membership number when you ring and there is no limit to the phone support members can access.
Q. Will you still have an annual conference?
A. Our conferences have always been very popular so we intend to run at least one a year
Q. Can I still vote at the AGM?
A. In future only Childminding UK members will be able to vote but all childminders will be welcome to attend. Premium and basic members can vote at this year's AGM on 23rd September 2017
FREE Guide to delivering the 30 hours of free childcare
As promised, we have produced a FREE Guide to delivering the 30 hours of free childcare that comes into effect in September. It is available on our Childminding UK website's Good Practice page http://www.childmindinguk.com/good-practice/#parents
We hope you find it useful.
Revised EYFS is here
The Government has produced a revised EYFS which comes into effect on April 3rd. Please make sure you are familiar with the to the revised version before April 3rd. You will also find a useful document that outlines the changes for you. http://bit.ly/2mdRCxN
CPD Course Accreditation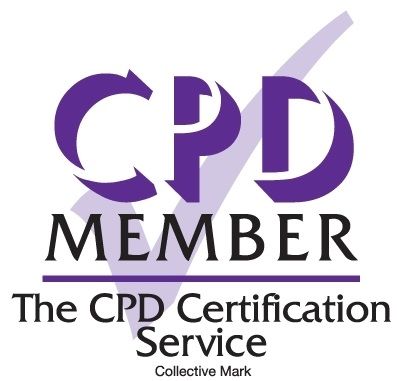 NCA have just become members of the CPD Certification Service. This membership allows us to apply to have our courses assessed to gain CPD Accreditation. This means that you can be reassured the quality of the learning has been passed by the CPD Certification Service
NCC Early Years Bulletins
Novembers bulletin 10 is now available here
Library photograph Policy and Protocol with Childminders.
You are probably aware that the libraries now deliver all the universal services that used to be provided by Children's Centres. There are two documents that you need to be aware of. The Protocol for Childminders and Children's Centre Services and the Library Photograph policy. Both of these documents can be found in the 'running a childminder business' section of the Information for Childminders page.
NCC Integrated Early Years Meeting
The slide notes for the Autumn Early Years Meeting have now been published on the NCC website for those of you who couldn't attend the actual event. You can see the slides here http://bit.ly/2fnsFfk
FREE RECIPE
Visit www.childmindinguk.com for this weeks free recipe; Applejacks
Grub4Life, NCA's nutrition partners have provided us with a series of resources that we will upload to our website. Each week we will upload for you either a recipe or a helpful factsheet. This week we have uploaded a recipe for Cauliflower and macaroni cheese. All recipes serve 10 pre-school children and give you the nutritional analysis for each portion. Find the new recipe here.
These free resources compliment our healthy eating manual and recipe book that will shortly be available in our shop.
NCA have a Patron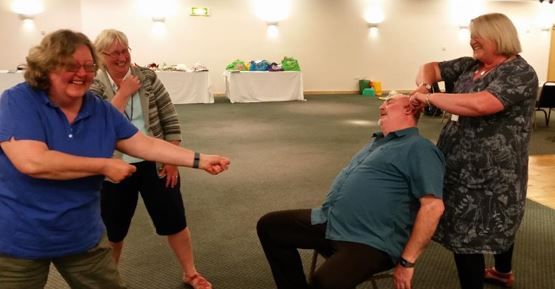 We were absolutely delighted when Neil Griffiths agreed to be our patron; some of the NCA staff team were lucky enough to attend his workshop in Kettering in the early nineties when we were childminders. Storysacks were relatively new at the time and we have never forgotten how he inspired us. Since then of course he has been our keynote speaker and run workshops at NCA conferences, bringing such fun and laughter while giving the important message about inspiring young children to read. We look forward to a long association with Neil.
Don't forget you can hire Storysacks from libraries in Northamptonshire. And Neil will be joining us at our Annual Conference in September 2017.
The photograph above shows Neil in on of our workshops from last years conference.
NSCB Safeguarding News
Available here http://bit.ly/2dZIUTB
In this edition you will find information about:
Domestic Abuse- including procedures and FREE online training
Button Batteries - risk to toddlers- not just a choking hazard
E-safety newsletter by Simon Aston - including info about a free Net Aware app
FGM strategy
and much more....
Don't forget you can sign up to receive this newsletter directly to your inbox- it is your responsibility to ensure you are up to date regarding safeguarding matters.
Sign Language Training.
NCA is pleased to be able to offer places on our popular Premium Members evenings to non Premium Members.
The sessions will be covering sign language and delivered by Krista Norris, MASLI, RSLI, Cert. Ed, BA Hons. Krista regularly signs at the Derngate Theatre, Northampton and also works as an interpreter, teaches signing to governing bodies and as a private tutor.
Krista will be discussing the benefits of using sign language for all children - which can start from birth!
Krista will explain that babies as young as 7 months can use signs to get their basic needs met.
Then the evening will teach signs that you can use in your day-to-day childminding practice.
Dates available:
Monday 3rd October Venue: Sunley Conference Centre, Boughton Green Road, Northampton, NN2 7AL. Time: 7.00-9.00pm.
Monday 17th October Venue: Holiday Inn Express, Rockingham Road, Kettering, NN14 1UD. Time: 7.00-9.00pm.
Cost £10.00 per place. Places are limited and booking is essential. To book your place please visit our shop. http://www.childmindinguk.com/childmindingshop/
NCA Guide to Registering to Offer Funded Places for 2, 3 and 4 year olds
This new guide is available here. This guide is for you if you are considering offering funded places but are not sure what you need to do. Part 1 takes you through the information you need to know and how to register with NCC to offer the funded places. Part 2 explains how to use the NCC secure site to claim the funding for the places offered.
Premium Member Evenings
This terms Premium Member Evenings have now been organised and you can view details and book your place by visiting the training page of this website.
CAMHS Online Chat Service
Online live chat service – young people's views wanted
Our Involvement Team are working alongside the Community and Early Intervention Team within CAMHS to support a project to develop and an implement an online live chat, telephone support and facilitate self-referrals for young people (aged 13 to 18).
We would like to hear from young people within this age group, as well as parents and carers, to listen to their feedback which will help develop the service going forward. Please take five minutes to complete the relevant questionnaire below. If you would like to be in with a chance of winning a £50 voucher, please provide your email address at the end of the survey. The prize draw will take place on 5 September and the winner will be notified by email:
Young people (13 to 18 year olds): bit.ly/livechatYP
Parents/carers: bit.ly/livechatPC
Please share these survey links with your friends, families and colleagues.
If you have a family member or know of anyone within this age group that would like to support this project, please ask them to contact Janice Anderson, Involvement Lead either by telephone on 01536 452243 or email involvement@nhft.nhs.uk
New Safeguarding Requirements
Ofsted have just released their revised Inspecting safeguarding in early years, education and skills settings document which has some significant changes included.
This link takes you to the revised document. http://bit.ly/2bpOx8H
It is vital that you are aware of your responsibilities towards safeguarding the children in your care. The main changes to the document are as follows:
A designated safeguarding lead needs to be present all the time the setting is open- for childminders working alone, this will not mean any change. What isn't clear yet is if this affects assistants who can currently be left unsupervised with minded children for up to 2 hours per day
A new requirement for all staff and leaders to receive regular updates on safeguarding at least annually- this can be done through emails such as this one, e- bulletins such as the NCC bulletins, which you will find on the NCA site and newsletters such as the NSCB bulletins- which you need to subscribe to on the NSCB site if you haven't already. And of course you need to find time to read them to receive the information that allows you to fulfil this requirement.
A new requirement for schools and settings to have appropriate filters and monitoring systems in place to protect learners from harmful online material - this includes ensuring children are taught about safeguarding risks online
A new requirement for a staff behaviour policy. This won't affect childminders who work alone, but will affect those of you who employ others. It is not yet known if this policy would need to be in writing.
Clarification that designated staff need to have safeguarding training every two years - In Northamptonshire, the requirement for refreshing safeguarding training is already 2 years so this won't mean any changes for you.
There is a revised EYFS document due out shortly and these changes will likely be listed in this document too.
NCA will keep you updated as we hear any more news
New NSCB Procedures
NSCB NEW UPDATED PROCEDURE MANUAL
NSCB has launched it's new procedure manual that has a brand new layout, is easier to navigate and has new features too.
There is also a list of key features, 10 top tips on how to use and a link to register for updates.
Please follow this link to access more information and a link to the new procedures. http://bit.ly/2atNSS1
Remember it is your responsiblity to ensure your safeguarding knowledge and procedures are up to date.
NCA's Healthy Eating Training
Nearly 100 childminders attended the recent healthy eating training that NCA delivered as part of the Food and Nutrition project that NCA and Grub4life joined together to work on.
The healthy eating manual was very well received by all those who attended and many bought the recipe book that accompanies this project where all recipes have a nutritional breakdown which tells exactly what nutrition each dish contains and also gives adaptations for those with special diets of wheat, dairy or milk free diets.
The manual and recipe books will soon be available to buy in our shop.
---
New document from Public Health England
Public Health England (PHE) wants to increase the proportion of children ready to learn at 2 and ready for school at 5. This resource for health professionals and local authorities focuses on investing in early years services from pregnancy through to 2 years old.
---
Welcome back to Tracey Hobbs who just spent 6 weeks helping the Ripple Affrica projects in Malawi
Tracey has given this account of her trip of a lifetime.
Hello childminders.
Apologies for not being able to send you updates about my trip whilst there. The internet connection was very poor or non-existent.
When I arrived my first few days proved to be very hard and challenging emotionally. I found the change in culture, living standards and health a lot to accept. Also I was the only volunteer at the project which meant I had to find my own way about and how things operated. How to get/ buy food. There's no going to the nearest Tesco or large supermarket, it was a 35 minute cycle ride to the road then catch a mini bus to the next town. Which doesn't sound very challenging but when you are on your own in a strange place and everyone speaks a different language and shouts Mazuka at you which means white person it can be a bit daunting.
After the first week I began to find my feet and another volunteer had arrived. I had been out with the charities assistant manager (Dan) to see the different projects that Ripple Africa have in progress. 8 pre-schools, health clinics, conservation fish projects, tree plantation, ladies sewing group, primary schools, library, adult literacy class and building new dormitories for the girls at the secondary school.
I chose to spend 3 mornings with the local pre-school, 2 mornings at the health clinics (I am also a trained nurse) 2 afternoons teaching English at the adult literacy class, one afternoon helping with the ladies sewing group and Friday afternoon planning work for the following weeks.
Pre-schools : Ripple Africa have built and manage 8 pre-schools; they employ all local people as pre-school teachers and they have a pre-school coordinator that over sees the 8 schools. They operate very different to English settings. Children aged between 2-6 years walk to and from the pre-schools on their own and the children's parents never visit the setting.
Staff do not know how many children will be attending each day and they do not keep a register. During my time there the lowest number of children that attended was 55 and the highest was 80. They have very limited equipment and children have to sit for long periods of time. The pre-school teachers use the numbers, days of the week, months, shapes, and alphabet letters which are painted on the walls of the buildings to teach the children.
The children are happy and very well behaved. Whilst I was there I helped build sand pits and swings for the children. I then had to show the children how to play with them. Ripple Africa pay the pre-school teachers extra money to grow sweet potatoes which they take into the pre-schools and cook them for the children's snacks.
Each day at the end of the session the children are given hot tea (Hot water with tealeaves in) and a quarter of a sweet potato. Due to some of the children being double orphans this may be the only meal they receive in a day.
I made singing sacks for the library so other volunteers and the pre-school staff could borrow them to use with the children. At the health clinics there is only one doctor for the district and he is helped by health assistants. Most days the health assistant has to run the whole busy clinic on their own. I helped by administering children's inoculations, removed sutures, did malaria testing, took BPs and observations etc.
My trip has been challenging, upsetting, rewarding and an amazing lifetime experience. I hope to return in the future to continue some of the work I started.
Tracey Hobbs
NCA Operations manager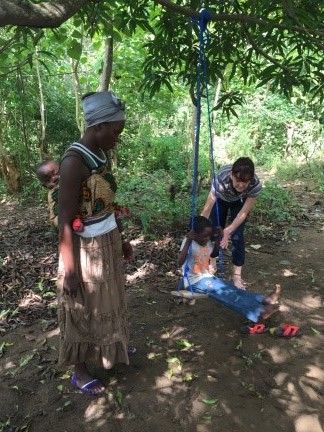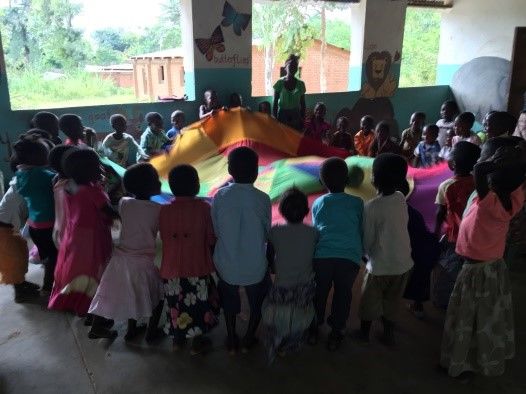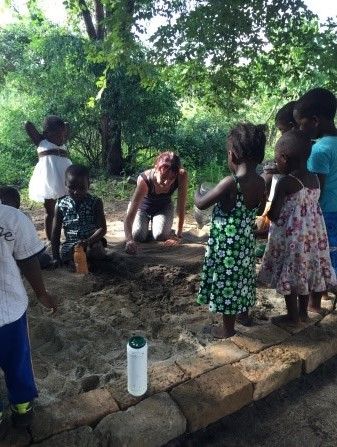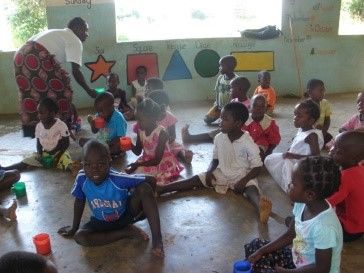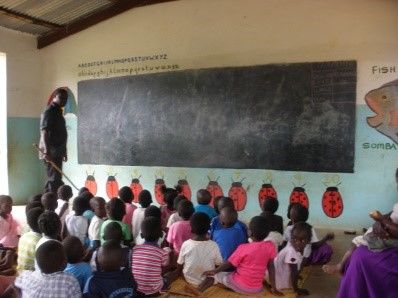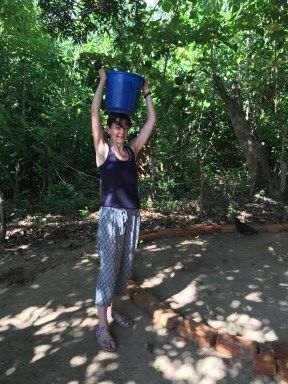 ---
Carly has sent us these photos of her minded children having great fun in the mud. Thanks Carly.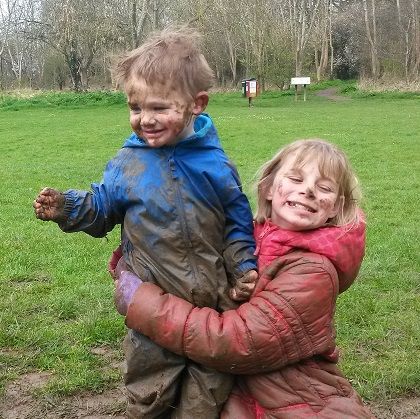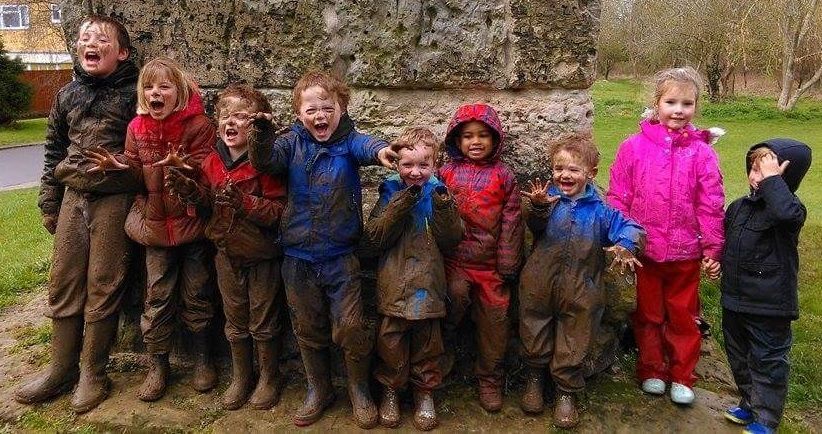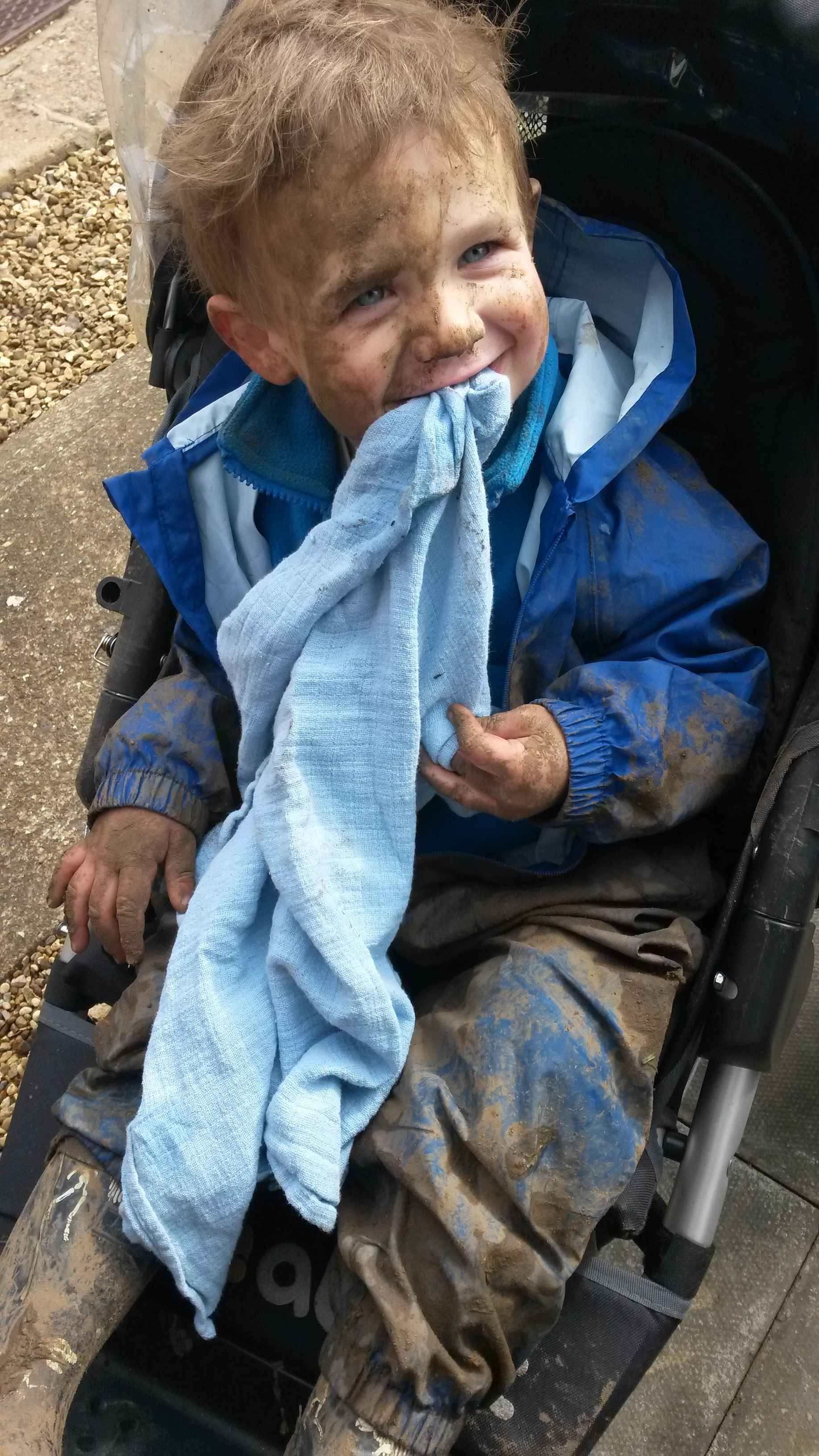 ---
Early Years Bulletin
Northamptonshire County Council's Early Years bulletin for May is available here
---
30 Hours Free Childcare Frequently Asked Questions
Many of you are considering the impact of the Governments 30 hours of free childcare which comes into place in September 2017. A group of providers are working with NCC to discuss and highlight the best way forward for practitioners in the county to meet this need. You can see a short list of frequently asked questions about the extended scheme here.
---
FUNDING FOR CHILDREN'S CENTRES CUT BY £3 million in Northamptonshire
Government cuts mean that NCC need to make cuts to Children's Centres services of £3m over 2016/2017. They are considering closing 8 Children's Centres completely and moving services from another 9 to the local libraries.
The NCC has started a 6 week public consultation period, ending on April 28th where YOU can have your say on what the proposals mean. The online consultation only takes around 5 minutes to complete and the first page asks what area you wish to comment on.
Corby Children's Centres have set up a petition you can sign if you wish- which you can find here https://you.38degrees.org.uk/petitions/4corby-children-say-no-more-cuts-1
To find the consultation, please use this link
http://mob.northamptonshire.gov.uk/main?originUrl=http%3A%2F%2Fwww.northamptonshire.gov.uk%2Fen%2Fcouncilservices%2Fcouncil%2Fconsultations%2Fpages%2Fdetails.aspx%3Fcid%3Ddd309410-84c5-4c2e-ab2d-d3528a764179&search=current
---