NCA Management Committee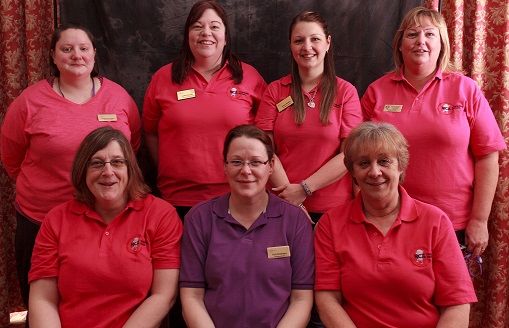 Left to right: Back row: Mel, Hayley (Vice Chair), Aimee, Kerry
Front row: Anita (Chair), Carly, Lynne
Northamptonshire Childminding Association (NCA) promotes and supports prospective and registered childminders in Northamptonshire.
A registered charity, NCA was formed in 1991 by a group of working childminders. Our charity number is 1047565. NCA Constitution and Mission Statement
The association is managed by a voluntary management committee of practising childminders and currently employs a team of 7 staff
Trustee recruitment
Northamptonshire Childminding Association is now moving to a wider remit, supporting all childminders as Childminding UK. From October we will be focusing on promoting Childminding UK Membership and producing even more bespoke resources and online training. Have you got any of the skills we need to take us forward as we continue to expand to a national support organisation for all Ofsted registered childminders? Could you offer the commitment needed to be a Childminding UK Trustee? Read more about what's required. If you would like an informal chat please ring Elaine Pitteway on 01536 711809 or Anita Baxter on 07711 353680. Download an application form.
Passionate about home based childcare?
NCA Patron
NCA are dellighted to have Neil Griffiths as our Patron. Here's what he has to say about childminding and NCA:
I was thrilled and deeply touched when asked to be Patron of the Northampton Childminding Association.
In my day, accredited childminders did not exist and as a child I was reliant on kind neighbours and friends of the family.
How times have changed and improved greatly, thanks to so many amazing childminders all over the country.
Some are lucky enough to be offered a local Association, a crucial line of support and encouragement.
Northamptonshire is one and I therefore have jumped at the chance of being able to be part of such a wonderful group of professionals ensuring children get the best start in life!
Our Professional Partners
NCA has a small but growing team of professional partners which you may not be aware of.
Morton Michel; our Public Liability partners. Our members receive discounts on Morton Michel public liablity and they provide all our members free copies of their Home Childcarer magazine bi-monthly.
Cherwell and South Northants Public Health team; Stuart Wheeldon and David Stokes have worked with us to validate the content of our food hygiene training as suitable for registered childminders. They continue to work with us on the Primary Authority protection that our members receive regarding Environmental Health inspections.
Trading Standards; We work with Stuart Brough regarding the information that childminders need to be aware of regarding allergen information. This information is also protected through Primary Authority for our members.
CPD Certification Service: NCA has recently become a member of the CPD Certification Service and will be applying to have our online courses assessed as suitable for CPD accredition meaning that you can be confident the courses have been approved as a suitable learning experience.
Our partnerships help NCA to extend and improve our knowledge about relevant issues which in turn is used to help support you and give us access to up to date and highly skilled professionals which makes it easier for you to access this information all in one place- with NCA!
Our contact details are as follows:
Northamptonshire Childminding Association
PO Box 7114
Kettering
Northants
NN16 6BG
Email: info@childmindingnorthants.org.uk
Telephone: 0845 838 3724 - this phone line is covered between 9am and 5pm Monday to Friday
We hope that you are always happy with how we work with you. But if not, NCA has a complaints policy so if you need to tell us about anything that you aren't happy with, please read this and follow the process. Remember if you don't tell us about it, we can't change it!